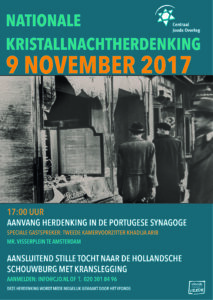 Het Centraal Joods Overleg organiseert ook dit jaar de Nationale Kristallnachtherdenking op 9 november a.s. in de Portugese Synagoge aan het Mr. Visserplein te Amsterdam. De bijeenkomst vindt plaats van 17.00-18.00 uur.
Aansluitend is een kranslegging op de binnenplaats van de Hollandsche Schouwburg.
Voorzitter van de Tweede Kamer Khadija Arib is gastspreker.
Programma
| | |
| --- | --- |
| Alfie de Vries | Namens de Joodse Jongeren |
| Gesprek tussen Rolf Kamp en Wil Parijs | Rolf Kamp was getuige van de Kristallnacht |
| Khadija Arib | Voorzitter van de Tweede Kamer der Staten Generaal |
| Ron van der Wieken | Voorzitter Centraal Joods Overleg |
Deze avond zal gepresenteerd worden door Sarai Mock en wordt muzikaal omlijst door André Felipe Lima en het orkest van Concertino.
Wij verzoeken u ons vóór 25 oktober a.s. te laten weten of u komt via info@cjo.nl. Voor vragen of opmerkingen kunt u contact opnemen met ons kantoor op info@cjo.nl of telefoonnummer 020-3018496
Op 9 november 1938 vond in nazi-Duitsland de Kristallnacht plaats. Daarbij werden meer dan 1500 synagogen vernield, 400 joden vermoord en grofweg 30.000 Joodse mannen werden naar concentratiekampen gedeporteerd. Ook Joodse huizen, scholen, begraafplaatsen en ziekenhuizen moesten het ontgelden.
Zoals we op 27 januari stilstaan bij de bevrijding van Auschwitz als het fysieke einde van de Shoa, hopen we deze avond op een waardige en respectvolle manier stil te staan bij de verschrikkingen die in 1938 de opmaat hiervan zouden vormen.
Het Centraal Joods Overleg herdenkt de Kristallnacht om blijvend te waarschuwen tegen elke vorm van antisemitisme en racisme in onze samenleving. Zowel in Nederland als elders. Wij willen dat alle burgers in ons land vreedzaam, respectvol en zonder discriminatie kunnen samenleven. Door stil te staan bij de Kristallnacht, willen we het signaal afgeven alert te blijven. Voor antisemitisme en racisme mag nooit plaats zijn.